This week saw the reawakening of nineties kids all over the world, to the sound of a zig-a-zig-ah. Between 1000 and 1030 on Saturday morning, thousands of Spice Girls fans frantically refreshed their internet browsers in order to secure arena tickets for a reunion tour.  I did not acquire said tickets, but there is always hope.
So tell me what you want, what you really, really want…
Throughout the months of September and October, our clients completed a survey detailing their preferences and motivations when using recruitment agencies. The feedback has equipped us with the understanding of what clients really want. We are tailoring our service continually and we want to share our results, to emphasise that we do actually listen.
Just promise you'll always be there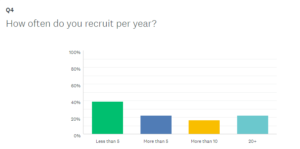 Over half of our clients recruit more than five times a year, with a quarter taking on over 20 new staff. These clients need consistency, loyalty and integrity. Our clients return to us and it is important to them to work with us as we understand.
You just walk in, I make you smile
Actually, nearly 85% of our clients would rather not meet a Recruitment Consultant when registering a new role. This could be as a result of a number of reasons; time, cost, effectiveness. I will also not shy away from the fact that Recruiters sometimes get a bad reputation. Some critics call us pushy or persistent and perhaps they are not so keen on meeting us. We are very friendly and professional. We would never turn up to your office without tasty treats.
What's driving you is ambition I'm betting
In fact, what drives our clients is service.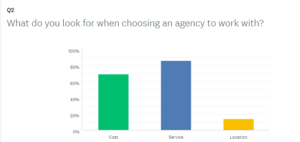 Not only service, but cost is also a strong factor for choosing an agency. However, service accounts for 50%, which is a significant number. Considering the fact that clients return, it is safe to conclude that we deliver in our service promises.
So there you have it:
Swing it shake it move it make it
Who do you think you are
Trust it use it prove it groove it
Show me how good you are
Swing it shake it move it make it
Who do you think you are
Trust it use it prove it groove it
Show how good you are
All lyrics copyright Spice Girls and Virgin, borrowed lovingly by a number 1 fan (circa 1998).